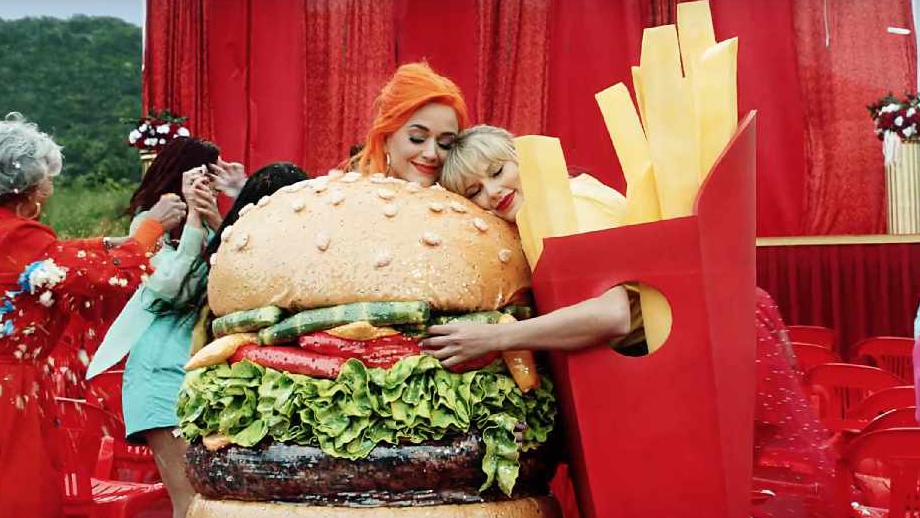 ... dressed as a burger and chips!
The BIGGEST feud in pop music is officially over after Taylor Swift was joined by Katy Perry in her new music video.
Taylor unveiled the 'You Need To Calm Down' music video on Monday and after promising that it will have 'a lot going on'... she was not wrong!
The pro-LGBT song is represented in the video with cameos from Ellen Degeneres, Adam Lambert and RuPaul... as well as Ryan Reynolds and Katy Perry.
The video setting is a trailer park with anti-LGBT protestors being ignored by the bright coloured wearing cast of stars that joined Taylor for the song.
The most talked about cameo however was from Katy who had been involved in a heated feud with Taylor for many years.
Last week, the pair revealed that Taylor had sent Katy some cookies which hinted at a reconciliation... which was the confirmed in the music video when, dressed as burger and chips, they embraced for a hug.
You can watch the music video below and hear 'You Need To Calm Down' every night this week on Total Access when Olivia Jones plays it as one of her Fresh New Music tracks.
LIKE THIS... HOW ABOUT?
Taylor Swift and Little Mix feature on this week's Fresh New Music list